The Johnson Family Dentistry team treats each person like family. It starts with the first phone call or in-person visit and continues with every interaction. With warmth, kindness, and compassion, our team members strive to ensure each person who steps through our doors knows they are safe, heard, and valued as an individual.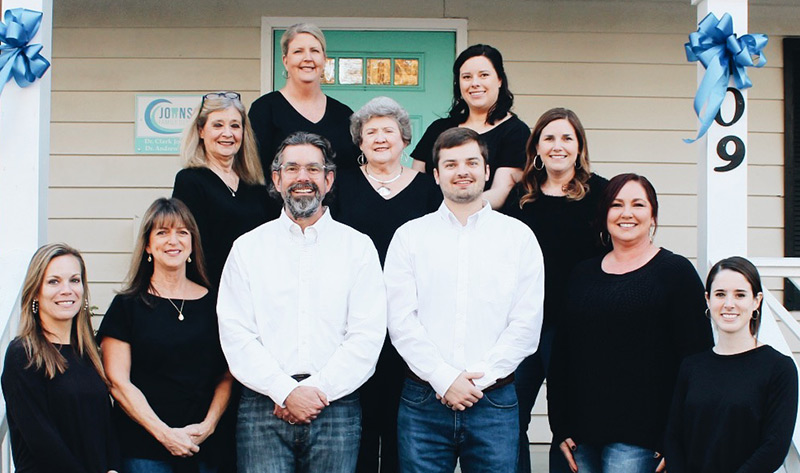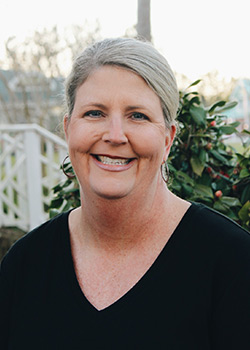 Andrea
Dental Hygienist
Welcome to Johnson Family Dentistry! My name is Andrea and I've been with this practice since 1996. I treasure the people I've met through this office and catching up with everyone at recall visits. I look forward to getting to know you, as I help you achieve a healthy smile!
I provide one-on-one patient care, including updating medical histories, taking X-rays, evaluating periodontal health, and dental cleanings. During appointments I'll offer personalized patient education, so you can take the best care of your teeth at home. My coworkers and I take our jobs seriously but have fun at the same time. This makes for a wonderful atmosphere, where you'll feel relaxed and at home.
Outside of work, my favorite times are spent with family: my husband Pat, son Austin, and step-daughter, Kaleigh. I also have a new grandson, Maverick, who was born in March 2022, and Pat and I have two yellow labs, Ruff and Banks, and a Golden Retriever, Kodi. I am a member of Calvary Baptist Church in Beaufort, which I've attended since I was three years old.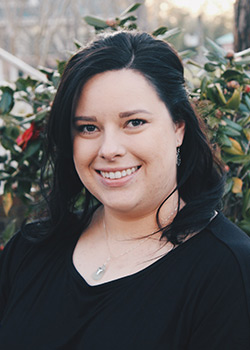 Brenna
Dental Assistant
Hello and welcome! I'm Brenna, a dental assistant who joined Johnson Family Dentistry in 2016. I enjoy helping to restore people's smiles and love helping those who are fearful overcome their worries and feel safe at our office.
I seat patients, talk with them about their problems and concerns, and discuss what will happen during their visit. Working chairside, I assist the doctors with restorative procedures while making sure our patients are comfortable in the chair. This is a wonderful office, where we all laugh, sing, dance, and support one another so we can provide you with the best care.
My husband Adam and I grew up together in southern California. We have two children, Noah and Malcolm, plus two Great Danes, a cat, and a hermit crab. When not working I'm often at the baseball field or a Cub Scout event with my boys. I also like tending my vegetable garden and sewing and crocheting projects.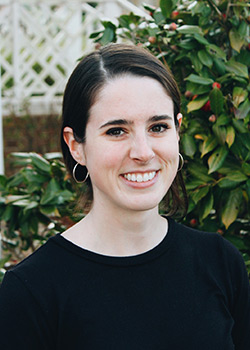 Catherine
Dental Hygienist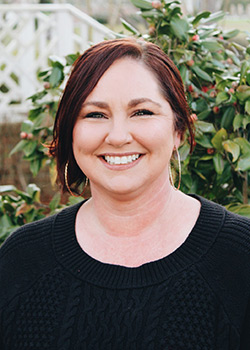 Lindsay
Office Manager, Front Desk, Dental Assistant
Hi and welcome to Johnson Family Dentistry! My name is Lindsay and I'll likely be one of the first team members you meet at the practice. I've been here since 2002 and value all the people I've met and become friends with over the years. Now I look forward to getting to know you.
I wear several different hats in the office. Sometimes I'm at the front desk interacting with patients, sometimes I'm handling a range of tasks that keep the office running smoothly, and other times I'm in the clinic assisting the doctors. My goal, and that of the doctors and team, is provide you with quality, personalized dental care and positive experiences.
I'm a Carteret County native and have lived my whole life here. Spending time with friends and family is very important to me. I have one son who loves all things messy and keeps me on my toes. In my spare time I love to garden, but I'm not good with watering.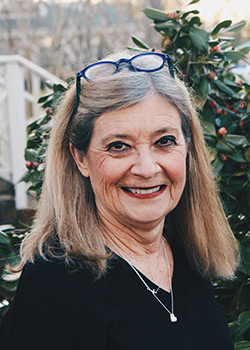 Lynn
Financial Coordinator
I began my career as a dental hygienist many years ago and have since moved into an administrative role. My job now includes filing insurance claims, posting payments and adjustments, and sending statements. The best part of my job is working with patients to maximize their insurance coverage.
I feel very fortunate to work with a dedicated group of professionals that feels like family. The doctors, hygienists, and assistants are excellent both clinically and in their communication with patients. The administrative staff is excellent in taking care of patient needs in every way. Most of all, everyone on the team works together and is a lot of fun!
I have been married to my husband, Russell, for 39 years and we have two children and three grandchildren. We enjoy living close to the water but also visiting our place in the mountains, where I love to read and Russell likes skiing.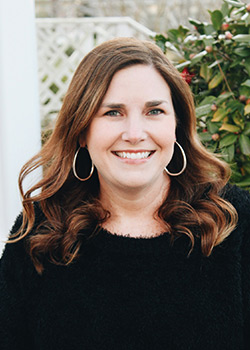 Shannon
Dental Hygienist
Welcome to Johnson Family Dentistry! I'm Shannon, a dental hygienist, and I've been part of our team since 1998. Over the years I've met so many wonderful people through my work: it's satisfying to help my friends develop and enjoy lifetimes of healthy smiles.
As a hygienist I provide preventive and maintenance therapies, including gentle cleanings. I also offer a lot of personalized education, teaching patients about the importance of oral health and how they can keep their smile clean and bright. That focus on education goes for everyone at our office: we all want patients to enjoy lives filled with healthy, happy smiles.
I grew up in Beaufort and have lived in Bettie since 1999 with my husband Anthony and our children, Christopher and Ashlyn. On our time off you can often find us at Cape Lookout. We love boating and being outdoors. Our labs, Bailey and Jade, are always on the boat with us and love to swim.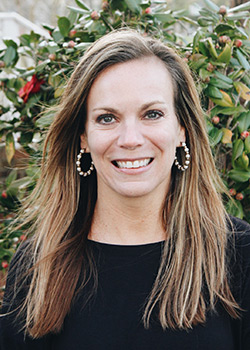 Tracy
Certified Dental Assistant, Receptionist
Hello and welcome! I'm Tracy and we'll meet on the phone, when you arrive for your appointment, or in the clinic. I've been with Johnson Family Dentistry since 2018 and appreciate the relaxing, supportive atmosphere, where our patients are part of our family.
I can be found working in the clinic and the front office, as needed. In addition to assisting the dentists with procedures, I take impressions and X-rays and make temporaries. I also answer our phones, set and confirm appointments, verify insurance eligibility, and post daily charges and payments. Like everyone at the practice, I'm here to help and will do so with a smile.
Family time and being with friends means a lot to me. I especially love being with my Chocolate lab fur-child, Halleigh. I like riding my bicycle around Morehead, and going out in the boat, planting flowers, and just being outside.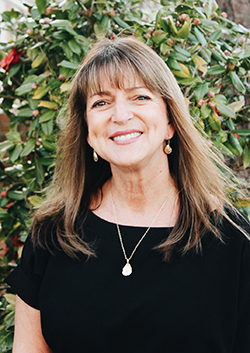 Lisa
Dental Assistant
I'm Lisa, one of the dental assistants here at Johnson Family Dentistry. I assist Dr. Johnson during our patients' dental treatment, in addition to taking X-rays and impressions and providing patient education. I graduated from Coastal Carolina Community College and am certified as a Dental Assistant II.
I enjoy being part of a team that helps improve people's smiles. Here at Johnson Family Dentistry, we all get along together and it's more like a family than a job!
My husband Steve and I have grown sons, a daughter-in-law, and two precious grandsons. I enjoy reading, going to the beach, and taking cruises. My hobby is making and teaching basket weaving! We have a motor home and love to travel—we call it glamping, not camping!